Believing that the Lord has prepared in advance good works for each believer to do (Ephesians 2:10, Acts 13:2, Acts 14:26), City Calvary Chapel aims to support and assist individuals and couples who are led by the Lord and are prepared to spread the good news of Jesus Christ's offer of salvation in other countries and/or to other people groups.
Our goal as a corporate body of believers is to send out missionaries from among ourselves, and thus be involved in the Lord's continued work to reach, disciple, and show His love to people around the world.
Mardee McElwee
Mardee McElwee, Simply The Story: Mardee has been involved in missions for 27 years – taking high school teams to Europe for six-week outreaches, summers with Operation Mobilization Love Europe, 12 years of church planting and discipleship with Calvary Chapel in Russia and Europe as well as training the teams, and teaching BEE (Biblical Education by Extension) with courses such as Healing the Wounds of Trauma, and Discipleship in India and SE Asia. Currently, Mardee teaches five-day workshops worldwide, training attendees in an oral style inductive Bible Study method using Bible storytelling – (STS or Simply the Story).  This is used in evangelism and all forms of discipleship in and out of the church, with the focus on reaching and teaching adults. http://www.simplythestory.org
Wesley & Tenley Jank
Wesley & Tenley Jank, Asuncion, Paraguay: Wesley and Tenley Jank and their two sons live in Asuncion, Paraguay where they are studying the national language and culture. After this they will be part of a church planting team that will go to a remote area in Paraguay, ministering to people who have never had scripture in their native language. Their passion is to take the gospel of grace where it has never been and consider it the highest privilege and honour to be a small part of what God is doing to build His church among every tribe, tongue, and nation. Follow the Janks: http://www.tenstwocents.com
Katie Blincoe
Katie Blincoe, Young Life College: Katie is on staff at Young Life, a ministry that introduces adolescents to Jesus Christ and helps them grow in their faith. "Blincoe" as she is known by, works full time at Young Life developing relationships with students at Seattle University. City Calvary Chapel is one of Katie's many supporters in her work for Young Life. A short video about YLC: http://vimeo.com/13636404
Scott & Lena Bensen
Scott & Lena Bensen, Kaliningrad, Russia: Scott and Lena Bensen, along with their five children, live in Kaliningrad, Russia and serve in a non-denominational church called Full Blessing, strengthening the Body of Christ by leading classes on how to study and interpret the scriptures using the AIM (Author's Intended Meaning) method. Scott also shares teaching duties in the church with a body of Elders. They are involved in helping young adults in a "Life Skills" training program for post-orphanage graduates who are out on their own for the first time. This work is in conjunction with several churches in the area with hopes of leading them to Hope in Jesus Christ.
Eric & Becky Baker
Eric & Becky Baker, (Bambay Sawaneh) Sierra Leone, West Africa: FC Seattle Sierra Leone is an indigenous ministry in Sierra Leone, West Africa, founded by Bambay Sawaneh, a native Salone man, with the help of Becky and Eric Baker of City Calvary Chapel. The ministry's mission is to use the game of futbol (soccer) to make disciples (Matthew 28:19-20) of Messiah Jesus from among the young men and women in the towns of Freetown and Makeni. The ministry also works to provide food, clothing and medical assistance for the players and for those who partner in the work of FC Seattle Sierra Leone. Follow updates at: http://fcseattlesierraleone.com and www.facebook.com/FCSeattleSierraLeone
Michael & Mary Lou Bryan
Mike & Mary Lou Bryan, Russia & America: The Bryans have been missionaries since early 1997 when they took their young family to Omsk, Siberia. A year later they did a church plant in the city of Smolensk where they lived with their family until 2007. Michael and Mary Lou now share their time between working and serving in America and traveling and strengthening the church they planted in Russia. Follow the Bryans: http://www.travelpod.com/z/bryans4russia/10/1411714259

Viktor & Vika Balyberdin, Smolensk Russia
Viktor & Vika Balyberdin, Smolensk, Russia: Victor is currently pastoring the church in Smolensk with the help of three brothers who serve as elders. He took over this position in 2007 where he and his wife, Vika have faithfully served. The Lord has blessed them with three beautiful daughters Melana, Sophia, and Alona. Victor, a native of Smolensk, has a strong desire to see the church growing stronger and the city reached for Jesus!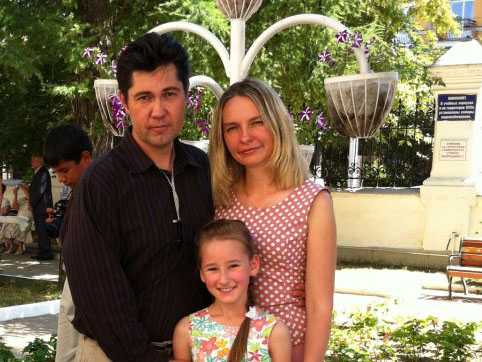 Slava & Olga Lontchakov, Ryazan, Russia
Slava & Olga Lontchakov, Ryazan, Russia: Slava and Olga Lonchakov and their daughter Nastya live in Ryazan, Russia. City Calvary Chapel planted a church in Ryazan in 1999 with Slava as the pastor. As well as leading the church there, Slava is active with an organization helping orphans adjust into the community after graduating from the orphanage helping them with jobs, housing and life skills training. Slava, who was also a semi-pro hockey player, uses this skill to evangelize and be a witness in the community leading many to Jesus Christ.